New world, new requirements
Key words in the world that we train you for include trends, new markets, taking initiative, entrepreneurship, no pain no gain, experience and internationalisation. The era in which Dutch companies easily found markets around the world is now history. With the emergence of such countries as China and India, competition has increased; it's a fight for every euro. These days, new products, top service and, especially, working hard are the essential ingredients for success.
Learning by doing
If you want to be successful in business, you need to experience the rules and working methods, and the associated atmosphere and mindset at an early stage. That's why we, as a school, accept real-life assignments from the business community. Our students play the main part in this, at their own level, in the organisation and execution. It's how you experience what it is truly to work under pressure - for real clients, with real deadlines and with real money.
Real enterprises, real events, real hotels!
Real-life situations and solid theory go hand in hand. Practical experience is deepened during classes and vice versa. You apply what you've learned to a real-life project with intensive support. So whether you're setting up and executing an event, launching a business concept or tightening the positioning of a hotel in the market: you and your team are responsible for the idea, the budget, sales, public relations, and organisation and execution. You work together, deal with conflicts, push back your boundaries and solve thousands of problems.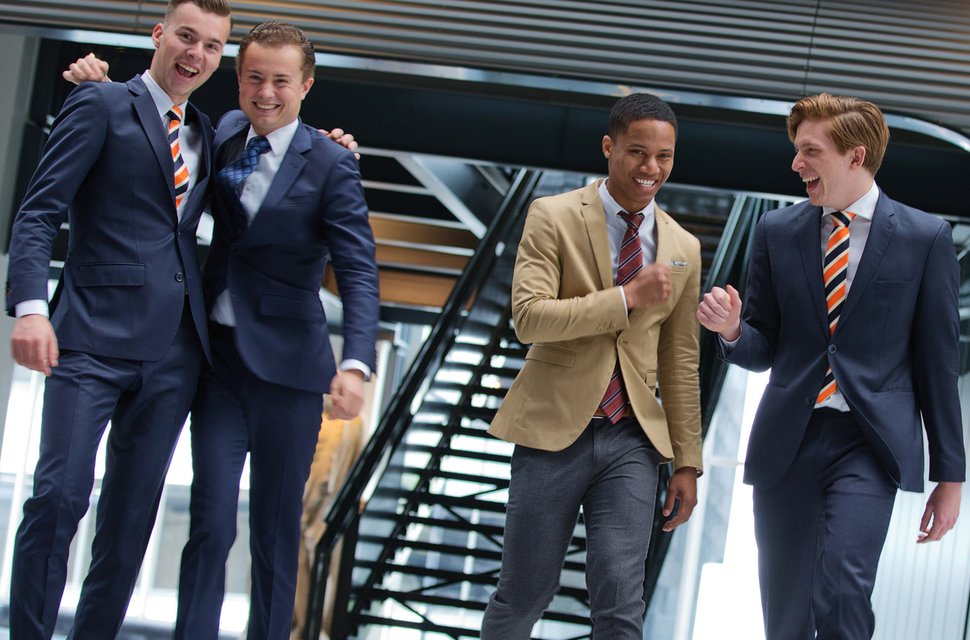 International Business & Entrepreneurship
Our business degree course started back in 1999. This course is based on the way in which entrepreneurs achieve success. At its core, this is essentially setting goals and generating massive action. We teach you how to do this. We teach you how to go through barriers. After all, if you want to be successful as an entrepreneur, then you must be prepared to be a solid leader. You determine the direction, you make the decisions, you're ultimately responsible. The bachelor's degree courses at EuroCollege align well with various bachelor courses.
International Event Management
Our events programme started in 1995. It is the only programme in the Netherlands that focuses exclusively on events and project management. In this degree course, you learn how to think up, develop and execute an event from A to Z.
International Hotel & Hospitality Management
The hotel degree course at EuroCollege University of Applied Sciences started in 1991. It is a course with a strong international focus, in which you'll be challenged to explore the extremes of the soul of service. In this, we are guided by the idea that the customer is not a king, but a god.
Discipline and professionalism
Studying at EuroCollege requires ambition, perseverance and motivation. To the Dutch way of thinking, it is a tough regime when you study with us - long days and clear rules of the game. It's an approach that's considered perfectly normal in many companies. This means: showing up on time, being present, demonstrating initiative, honouring deadlines, dressing presentably and being polite. Agreements are sacred! You may never keep a fellow student, client or customer waiting. You wear a suit on Thursdays. You will discover that hard work and pleasure go hand in hand. After all, success results in satisfaction. In addition, you'll always want more. This is important, because a solid mental approach is the key to success.
Small-scale
A private school such as EuroCollege chooses to be small and manageable so that we can give our students all our attention. The school has approximately 250 students. Small-scale education allows the school management, teachers and staff to develop a personal connection with the students and vice versa. We work with and for each other.
The degrees offered by EuroCollege University of Applied Sciences (hogeschool) are accredited by the NVAO
The Accreditation Organisation of the Netherlands and Flanders NVAO was established by the Dutch and Flemish governments as an accreditation organisation tasked with providing an expert assessment of the quality of higher education in both countries.